Nutritional Supplements in Orleans ON
OMEGA SUFFICIENCY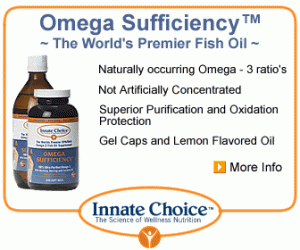 Innate Choice® OMEGA SUFFICIENCY? is the world's premier EPA/DHA Omega-3 fish oil. Sourced exclusively from wild anchovy, herring and sardine from pristine cold waters, it is triple molecularly distilled and ultra-purified to pharmaceutical grade and then immediately infused with natural antioxidants ensuring maximum purity and freshness. Omega Sufficiency? is also flavored with 100% natural lemon and it tastes great.. Importantly, Omega Sufficiency ™ is not chemically altered; it is kept in its NATURAL triglyceride form. Omega Sufficiency™ is also kept in the NATURAL EPA/DHA ratio and is not chemically concentrated or altered to create unnatural EPA/DHA ratios. Omega Sufficiency™ is in the form that human genes require! Independent third party testing proves Omega Sufficiency™ provides the purest, safest, most natural source of EPA/DHA Omega-3 fats possible.
---
PROBIOTIC SUFFICIENCY™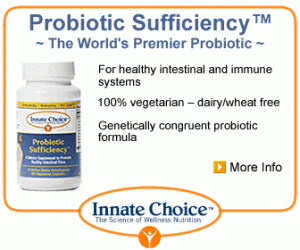 We now understand the importance of supplementation with a natural, multi-strain probiotic formula. PROBIOTIC SUFFICIENCY™ is derived from 100% vegetarian culture and contains no dairy, goat's milk, soy, wheat, or corn. PROBIOTIC SUFFICIENCY™ contains species of bacteria identified by scientific research as being essential for human wellness and prevention. This devotion to research is what makes Innate Choice™ PROBIOTIC SUFFICENCY™ the world's premier probiotic supplement. Innate Choice™ PROBIOTIC SUFFICIENCY™ is the world's premier multi-strain probiotic formula containing nine of the most essential species of beneficial bacteria. It is the only formula designed to re-establish those species found most commonly in the food of our ancestors and in the intestinal tracts of healthy human beings.
---
Vitamin D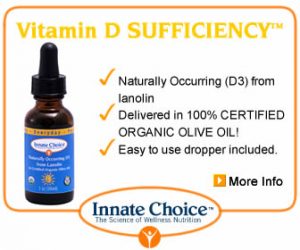 Innate Choice® D-Sufficiency™ drops represent the world's premier Vitamin D supplement. This product contains100% NATURALLY OCCURRING vitamins (no synthetic vitamin A or D) and are CONTAMINANT FREE. D-Sufficiency™ drops contain naturally occurring Vitamin D from lanolin delivered in CERTIFIED ORGANIC olive oil. Innate Choice D-Sufficiency drops are the purest, safest, most natural sources of Vitamin D available.
Monday
7:00am - 11:00am
2:00pm - 6:00pm
Tuesday
8:00am - 12:00pm
2:00pm - 6:00pm
Wednesday
7:00am - 11:00am
2:00pm - 6:00pm
Thursday
7:00am - 11:00am
2:00pm - 6:00pm
Monday
7:00am - 8:50am
3:00pm - 3:50pm
5:00pm - 5:50pm
Tuesday
3:00pm - 3:50pm
5:00pm - 5:50pm
Wednesday
7:00am - 8:50am
3:00pm - 3:50pm
5:00pm - 5:50pm
Thursday
7:00am - 8:50am
3:00pm - 3:50pm
5:00pm - 5:50pm