What to Expect at Hunter Chiropractic Wellness Centre in Orleans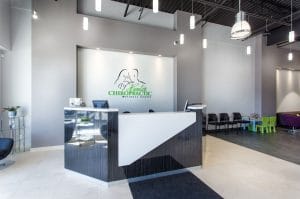 Our goal at Hunter Chiropractic Wellness Centre is to make you feel at home in our state-of-the-art facility. If this is your first time to a chiropractor, we will make sure to eliminate any apprehension that you may have.
In our office we focus on identifying the root, underlying causes of why your body is not functioning the way you would like it to, and it is our purpose to always provide more than just a temporary fix. Rest assured that if we can't help you here, we will refer you to someone who can.  It is our promise that we will treat you with the respect and compassion that you deserve.
---
Your First Visit - Approximately 30 Minutes
When you arrive at our office, you will be greeted by Esther, our office manager. She will give you a brief tour of our office.
At this point, Dr. Hunter will meet with you for a thorough consultation. You will be able to discuss your goals, symptoms, health history, and any questions you may have.
Once Dr. Hunter understands your situation, he will perform a comprehensive examination of your spine, and any other areas of concern. If digital spinal x-rays are recommended, Dr. Hunter can discuss this with you, and they can be performed at this time (fee separate).
Once your examination is completed, Dr. Hunter will review your results with you. He will answer any questions you have, and give you his best recommendations for care.
If he determines that he can help you, he will give you your first adjustment on this first visit. You won't have to wait!
---
Your Recommendations For Care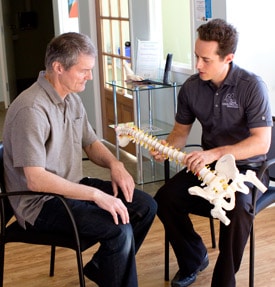 Dr. Hunter's goal will be to provide you with the best results in the shortest amount of time, and for the least cost.  You will never experience any pressure, long-term care plans, or financial contracts.
Our goal will be to come up with an optimal strategy for your spine, but also your budget and schedule.  We will also discuss strategies to start removing the underlying causes of your condition, and how to improve your mobility and strength so that we can ensure optimal function, and prevent recurrences in the future.
---
Your First Adjustment
You will be able to receive your first treatment on your first visit.
Our care is gentle, and is non-invasive and extremely safe. We fully customize your chiropractic care to your specific situation and comfort level.  Dr. Hunter will discuss any questions or concerns you may have, and will ensure that your experience is extremely positive.
The goal is to get you feeling and functioning better immediately.
---
If you have any questions prior to your first visit, please do not hesitate to call us or send us an e-mail.
We look forward to meeting you in person so that we can discuss your specific health goals.
Monday
6:30am - 11:30am
1:30pm - 6:00pm
Tuesday
8:00am - 12:00pm
1:30pm - 6:00pm

Wednesday
6:30am - 11:30am
1:30pm - 6:00pm

Thursday
6:30am - 11:30am
1:30pm - 6:00pm