What to Expect at Hunter Chiropractic Wellness Centre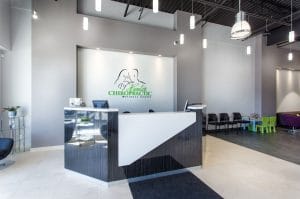 Our goal at Hunter Chiropractic Wellness Centre is to eliminate every bit of apprehension you may have visiting a chiropractor for the first time. We want you to be comfortable in our state-of-the-art chiropractic care facility.
Since chiropractic care involves a series of visits, with each one building on the ones before, it's important that our relationship can go the distance. We've found that one of the best ways to have successful patients relationships is to explain everything in advance.
---
Your First Visit to Our Orleans Practice
Welcome to Hunter Chiropractic Wellness Centre. If you've already completed your admitting paperwork, great! If not, after doing so we'll likely give you a brief tour of our office and then you'll meet with Dr. Hunter.
---
Complete Consultation with Dr. Hunter
During your consultation you will discuss your unique concerns, health history, questions, and health goals. You will receive a detailed spinal function assessment to identify areas of improper spinal movement and alignment (spinal subluxation). Dr. Hunter will perform a professional posture evaluation to assess your spinal biomechanics and underlying reasons for spinal subluxation. Once these areas are performed you will receive a Complete Report of Findings to determine whether a spinal subluxation is an underlying cause of a pain or symptom you have, what future problems could be developing, how your general health is being affected. Dr. Hunter will then review recommendations based on your goals:
Pain relief while correcting and restoring spinal function and health (corrective care)
Patch care methods (temporary relief care)
---
Corrective & Relief Spinal Care
Correct underlying problems, feel great, prevent re-occurrences, and improve your health. Dr. Hunter is certified in Chiropractic Biophysics TM (corrective care).
Highly-skilled, gentle, and safe adjustments by hand to specifically correct posture and spinal function.
Initial digital x-rays on-site (if necessary) which are professionally analyzed for safety, biomechanics, and to determine your customized corrective strategy.
Comparison x-rays to confirm that correction is occurring, and to optimize the precision of your care.
Customized spinal exercises and stretches to restore normal alignment and stability, and prevent re-occurrence
---
Your Second Visit to Our Orleans Practice
After we study your health history and correlate our examination findings, we'll make recommendations designed to help you get and keep your health. We call this the Report of Findings. This is usually attended to on your second visit.
In certain situations, and in the professional judgment of Dr. Hunter, we sometimes make exceptions. It just depends on your unique situation.
---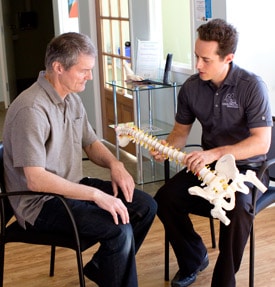 Regular Visits
After the investment of time needed on the first and second visits, many patients become concerned that every visit will be of equal length.
In a word: no. A typical practice visit may require just five to 10 minutes.
But don't think the brevity of a regular visit lessens its value! With the groundwork laid, we can quickly size up the condition of your spine and nervous system, adjust you and get you on your way.
Like a regular workout at the gym, each visit builds on the ones before. Miss a visit and you can lose the momentum necessary to make the needed changes.
We recognize your time is valuable. So we do everything possible to run on time and minimize the impact on your busy life.
Monday
6:30am - 11:30am
1:30pm - 6:00pm
Tuesday
8:00am - 12:00pm
1:30pm - 6:00pm

Wednesday
6:30am - 11:30am
1:30pm - 6:00pm

Thursday
6:30am - 11:30am
1:30pm - 6:00pm

Monday
7:00am - 8:50am
3:00pm - 3:50pm
5:00pm - 5:50pm
Tuesday
3:00pm - 3:50pm
5:00pm - 5:50pm
Wednesday
7:00am - 8:50am
3:00pm - 3:50pm
5:00pm - 5:50pm
Thursday
7:00am - 8:50am
3:00pm - 3:50pm
5:00pm - 5:50pm