Infant and Child Spinal Care in Orleans ON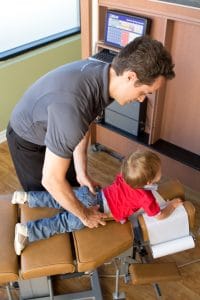 As parents learn the importance of getting and keeping their spines healthy, they realize it is best to begin this in childhood.
Wellness chiropractic care for kids is generally very simple as most young spines have not yet had sufficient time to accumulate substantial problems. The key is prevention. And our family plans make prevention an extremely affordable option.
We also see many children with specific conditions such as ear infections, colic, bed wetting, learning and concentration issues, weak immune function. digestive problems, pain, brain injuries, and many more.
And even with children with more advanced health conditions, they will always benefit tremendously from having an optimally functioning spine and nervous system.
Dr. Hunter is trained in extremely gentle, precise, and effective adjustments techniques for kids ranging from newborns and toddlers to teenagers.
Getting adjusted is a gentle experience in our office and it will feel great for your kids. There are also books for them to read, toys to play with, and even stickers for them to take home!
Call or email us to schedule your kids check-ups today!
Monday
6:30am - 11:30am
1:30pm - 6:00pm
Tuesday
8:00am - 12:00pm
1:30pm - 6:00pm

Wednesday
6:30am - 11:30am
1:30pm - 6:00pm

Thursday
6:30am - 11:30am
1:30pm - 6:00pm