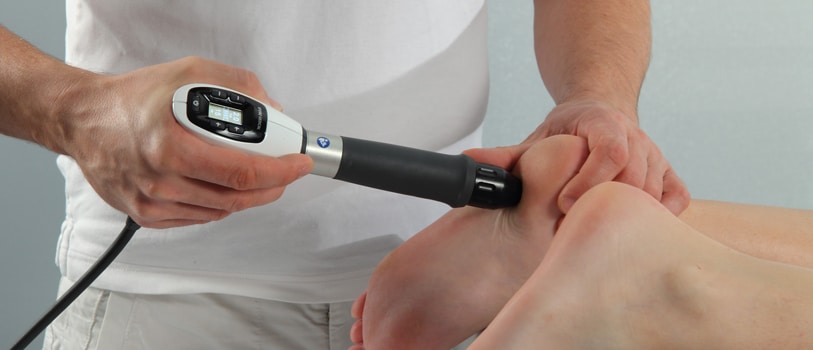 GET TO THE SOURCE OF YOUR PAIN WITH SHOCKWAVE TREATMENTS
Shockwave therapy in Orleans is a highly effective, non-invasive treatment which promotes accelerated recovery from soft tissue, bone, and joint pain. It is one of the most advanced and cost-effective therapeutic technologies currently available.
Shockwave therapy works by emitting high-energy, but comfortable, pressure waves into the painful areas of the body.  These pressure waves help the body to restore mobility by breaking down scar tissue, adhesions, trigger points and calcifications. Shockwave also improves blood circulation to the injury which enhances healing and regeneration of damaged tissues.
Relief typically begins within 1-2 treatments, and there is no downtime. 
---
CONDITIONS THAT CAN BE EFFECTIVELY TREATED IN ORLEANS INCLUDE:
Foot Pain (E.g. Plantar Fasciitis, Metatarsalgia, Heel Spurs)
Elbow Pain (E.g. Tennis or Golfer's Elbow)
Shoulder Pain (E.g. Rotator Cuff Tendinitis, Frozen Shoulder)
Leg Pain (E.g. Achilles Tendinitis, Shin Splints)
Knee Pain (E.g. Patellar Tendinitis, Jumper's Knee, Patellofemoral Pain)
Bursitis
Hip Pain, IT band or hamstring tension.
Trigger Points, Scar Tissue, Adhesions, and Calcifications.
Sports and Repetitive Strain Injuries.
… and much more.
Contact our office today to set up your assessment and therapy session with Dr. Hunter at Hunter Chiropractic Wellness Centre.
---
BENEFITS OF SHOCKWAVE TREATMENT
High Success Rate (as per clinical studies)
Non-invasive
No anesthesia required
No risk of infection
No scarring
No downtime
Cost effective
Faster, easier healing
---
FREQUENTLY ASKED QUESTIONS
Who is a candidate for Shockwave?
Most people are good candidates for Shockwave treatment however patients who are pregnant, have a pacemaker or current cancer are not suitable for treatment with Shockwave Technology. Your doctor will provide you with information about conditions you may have that would affect your ability to undergo treatment.
---
What are the possible side effects?
Treatment with Shockwave technology has virtually no side effects. In some cases, patients may experience minor discomfort for a few days. Patients can return to work after treatments and in most all cases there is no down time.
---
How many treatments are generally needed?
The number of sessions needed at Hunter Chiropractic Wellness Centre depends on the condition that is being treated. Each treatment session takes approximately 10 minutes and can vary depending on the condition that is being treated.  Relief typically begins within the first 1-2 treatments.
---
How is the treatment performed?
Shockwave treatment is non-invasive. Gel is applied to the treatment area; shockwaves are then gently released through the applicator as it is moved over the treatment area.
---
Clinical Studies
Click here to view the vast body of scientific evidence supporting the effectiveness and safety of shockwave therapy for the treatment of a wide variety of conditions.
Monday
6:30am - 11:30am
1:30pm - 6:00pm
Tuesday
8:00am - 12:00pm
1:30pm - 6:00pm

Wednesday
6:30am - 11:30am
1:30pm - 6:00pm

Thursday
6:30am - 11:30am
1:30pm - 6:00pm