Chiropractor Mark Hunter D.C.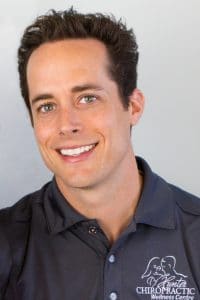 Chiropractic Education
Dr. Mark Hunter has been studying family wellness and pediatric development for the past 15 years, and is now a sought-after healthcare provider and wellness lifestyle speaker. He graduated Magna Cum Laude as a Doctor of Chiropractic from the prestigious Palmer College of Chiropractic, has a Bachelor of Science degree in Human Kinetics, a college diploma in Sport Injury Management, and holds post-graduate certifications in spinal corrective care (chiropractic biophysics), and as a chiropractic wellness practitioner (C.C.W.P.).
Hunter Chiropractic Wellness Centre
Dr. Hunter is the spinal correction chiropractor and lead wellness program instructor at Hunter Chiropractic Wellness Centre. His state of the art facility, which he opened in 2006, is currently one of the largest wellness clinics in Ottawa, serving over a hundred patients per day. Dr. Hunter regularly travels across North America to learn the most advanced techniques and information regarding optimal health, spinal corrective care, pregnancy, and pediatrics.
Spinal Corrective Care
Spinal corrective care (CBP) is a comprehensive, systematic, scientific approach to chiropractic that provides predictable results for patients. For the past 15 years, these corrective techniques have been subjected to more clinical trials and the scrutiny of peer-reviewed research publications than any other chiropractic approach. Dr. Hunter's certification required completion of post-graduate training as well passing certification exams to demonstrate his mastery of the methods.
Certified Chiropractic Wellness Practitioner (C.C.W.P.)
Dr. Hunter has been awarded the title of Certified Chiropractic Wellness Lifestyle Practitioner (C.C.W.P.) by the International Chiropractors Association. This involved completion of specific on-site seminar course-work, home study modules assignments, examinations, and other requirements in the fields of spinal health, neurology, physical fitness, nutrition, emotional health, and personal change.
Dr. Hunter's wellness lifestyle workshops give patients detailed instruction and coaching in lifestyle implementation for wellness and prevention. The information is:
Systematic, EASY TO IMPLEMENT, step by step, and very practical.
100% natural, meaning there is nothing you are required to purchase.
Based purely on peer-reviewed research from the world's most prestigious journals regarding genetics, nutrition, exercise, and personal change.
The workshops provide patients with information about WHAT to do, HOW to do it, and HOW to actually get themselves to do it in a way that is easy, comfortable and sustainable.
These workshops revolutionize both the practice and delivery of wellness and lifestyle healthcare.
Sports Injury Management
Dr. Hunter completed a rigorous five-year integrated program where he received an Honours Human Kinetics degree from the University of Guelph and a Sports Injury Management Diploma from Sheridan College (Dip. S.I.M.). During this process he received over 1200 hours of experience working with high-level sports teams in some of North America's top sports medicine clinics.
Chiropractic Philosophy
Through corrective chiropractic care and dynamic wellness lifestyle workshops, Dr. Hunter represents the leading source of scientific and clinical holistic wellness expertise for his community. Our high patient satisfaction is the result of gentle, safe, evidence-based care, while providing the tools patients need to improve their health on their own to avoid drugs and surgeries. As chronic illness and pain rates in Canada have been rising exponentially over the past 50 years, this is exactly what the public needs and demands.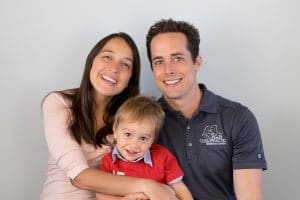 We are a Chiropractic Family
Dr. Hunter's passions are learning, international travel, and staying active. His first priority in life however, is his family. He lives with his wife Patricia and their son Adriano in Orleans where he practices with his own family what he lovingly teaches his patients to do: Eat by Design, Move by Design and Think by Design.
It is my promise that we will treat you with the respect and compassion that you deserve.
In our office we focus on identifying the root, underlying causes of why your body is not functioning the way you would like it to, and it is our purpose to always provide more than just a temporary fix. Rest assured that if I can't help you here, I will refer you to someone who can.
I look forward to meeting you in person so that we can discuss your specific health goals. Give us a call today to schedule your appointment.
Monday
6:30am - 11:30am
1:30pm - 6:00pm
Tuesday
8:00am - 12:00pm
1:30pm - 6:00pm

Wednesday
6:30am - 11:30am
1:30pm - 6:00pm

Thursday
6:30am - 11:30am
1:30pm - 6:00pm

Monday
7:00am - 8:50am
3:00pm - 3:50pm
5:00pm - 5:50pm
Tuesday
3:00pm - 3:50pm
5:00pm - 5:50pm
Wednesday
7:00am - 8:50am
3:00pm - 3:50pm
5:00pm - 5:50pm
Thursday
7:00am - 8:50am
3:00pm - 3:50pm
5:00pm - 5:50pm